Babyspace is a multinational website portal dedicated to pregnancy and baby-related information and services. It operates in several countries, including Greece, Cyprus, Romania & Bulgaria.
Since its establishment in 2009, Babyspace has aimed to support new parents in providing the best care for their children. It has built a wide network of doctors and distinguished scientists to answer questions and provide guidance. With over 100,000 registered members, the website continues to offer important information to modern mothers and fathers, striving to alleviate the stress of parenting and enhance the enjoyment of precious moments.
Babyspace provides informative, up-to-date, and enjoyable content, including over 5,000 articles covering fertility, pregnancy, and motherhood. The website also offers personalized content and useful pregnancy tools.
If your business operates within the pregnancy and baby niche, partnering with Babyspace can serve as a valuable tool for successfully promoting your products or services. It serves as a comprehensive resource, providing answers to parents' questions and catering to their needs.

What does Babyspace offer?
Babyspace offers various advertising and promotional opportunities to highlight your brand. Here are some options you can consider:
Banner Campaign: Plan a one-page or run-of-site (ROS) campaign using banners of your choice to showcase your brand on Babyspace's website.
Sponsorship of Monthly Newsletter (Banners): Have your banners featured in Babyspace's monthly newsletter, which is sent to thousands of pregnant women and mothers.
Custom Newsletter Campaign: Design a custom newsletter campaign targeted specifically to Babyspace's audience, featuring your brand and tailored content.
Sponsored Articles: Sponsor an article of your choice or dedicate a relevant section of the Babyspace website to highlight your brand and offerings.
Advertorial: Create an objective and researched articles that promote your brand or services, blending them seamlessly within the Babyspace platform.
Facebook & Instagram Posts: Generate social media posts on Facebook and Instagram to promote your advertorials or sponsored content on Babyspace.
Sponsored Posts: Utilize sponsored content on social media platforms to reach a targeted segment of Babyspace's audience.
Facebook/Instagram Contest: Organize a branded contest on Babyspace's Facebook and Instagram fan pages, offering followers the chance to win your products as prizes.
By leveraging these advertising and promotional options, you can effectively reach and engage with Babyspace's audience, consisting of parents and expectant parents seeking valuable information and products related to pregnancy and child-rearing.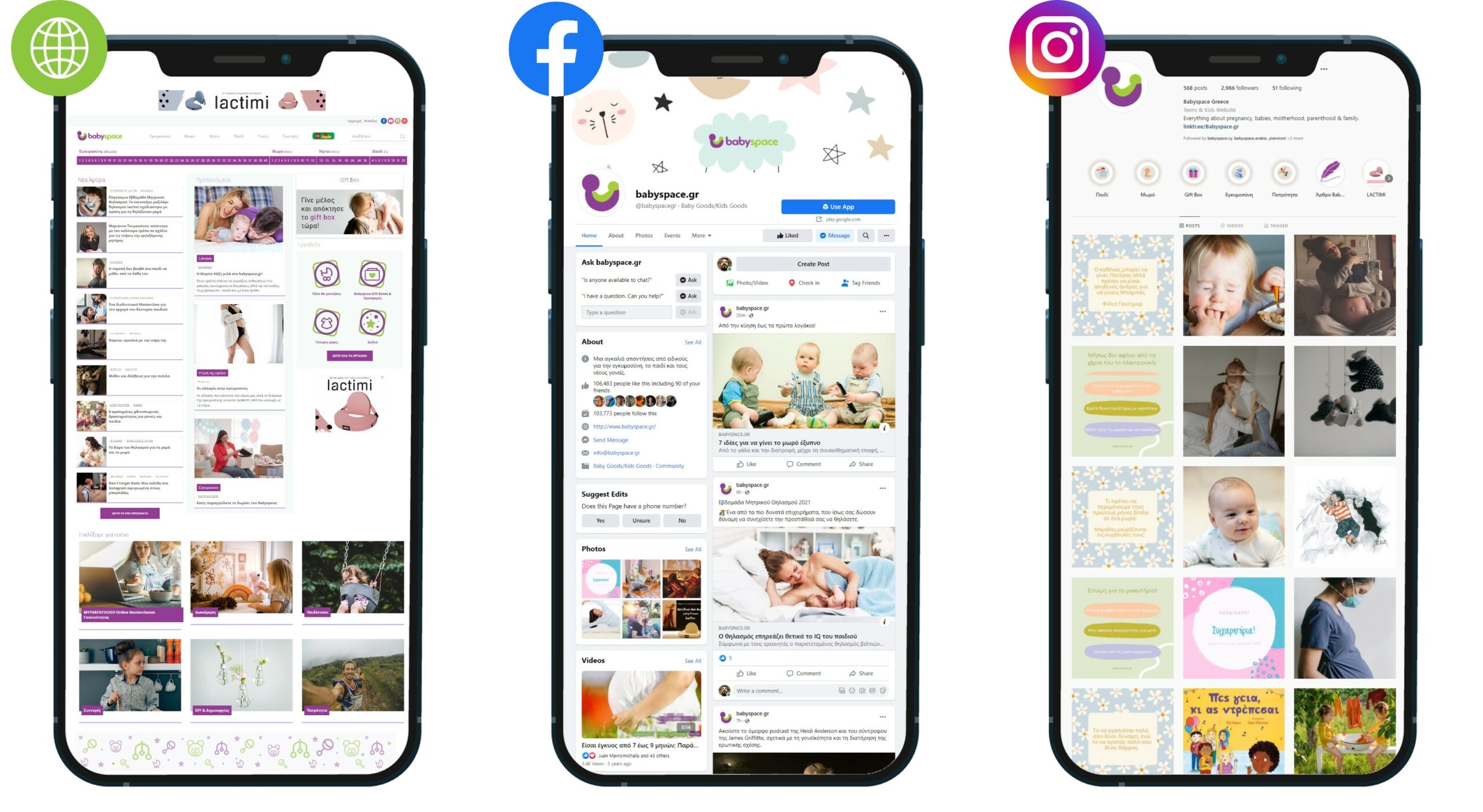 Our brands hub
Our branded programs and services are introduced under three main categories. The brand-new innovative programs and services, our powerhouse of direct experience programs focusing on trial and education and finally our digital initiatives aiming to meet consumers online.